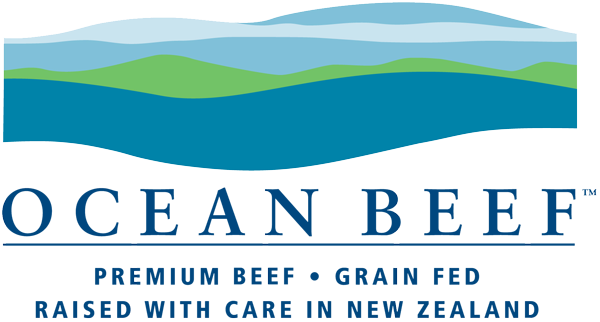 Surrounded by the Pacific Ocean, the islands of New Zealand are famed for their world-leading farmers, unspoilt land, and spectacular scenery. Ocean Beef, premium grain fed beef, is the unique product of that exceptional environment; the best grass, the best grains, and fresh sea air.
For the first 18 months, the Angus cattle graze the lush, nutritionally rich pastures of New Zealand. Free-range, they benefit from the temperate year-round climate that makes growing conditions ideal.
At 18 months, steers are hand selected for Ocean Beef using a stringent quality and safety programme ensuring only the best animals are chosen. Ocean Beef, which is located on the shores of the South Island provides them with an idyllic life. They're fed a GMO-free, high quality grain diet (supplied by neighbouring farms) and enjoy the salt sea air.
Purity is strenuously enforced and safeguarded. No hormone growth promotants or antibiotics are used and the air is dust free. To ensure health and well being while minimising stress, riders on horseback check the steers twice daily.
The animals live in an environment that ensures the highest quality beef. They are kept calm, clean, dry, and above all comfortable. They have a plentiful supply of natural ar tesian drinking water drawn from deep underground, fed by snow that melts on the Southern Alps.
From the farm to the table, Ocean Beef guarantees the highest quality, taste, safety and consistency. The combination of free-range and grain finishing ensures flavour and melt-in-the-mouth texture that results in a superior eating experience every time. In addition, the Ocean Beef story, natural fresh food from a sustainable, healthy land reflects chefs' awareness of issues including traceability and the environment
These Ocean Beef farmers are the four th generation to farm their picturesque proper ty in the Rakaia Gorge, South Island, a location ideally suited to Angus cattle. Like all farmers chosen to raise Ocean Beef, they are audited regularly to ensure that they always meet the highest standards
Ocean Beef is more than just a wholesome, versatile food. It is an excellent source of many essential nutrients and makes an important contribution to a healthy, balanced diet. High in iron, zinc, protein and Vitamin E, Ocean Beef also includes B Vitamins essential to healthy skin, vision and optimal brain function. Ocean Beef is also an excellent source of Omega 3s.
New Zealand is surrounded by ocean, ensuring a natural border protection. This has resulted in New Zealand having the highest safety standard for beef in the world. In addition, all animal production and processing systems are independently audited and certified by Asure Quality and are certified under ISO9001 and 14001.