LOGISTICS
We manage our own distribution and logistics, enabling us to supply from stock and just in time. All of Schoonderwoerd Vlees BV's stock, both fresh and frozen, is stored at a single location in Bilthoven. This allows us to deliver everything from stock, directly to the customer. The big advantage of having all stock at a single location is that we never have any delays and are never late delivering products while stocks last.
Once unloaded in Bilthoven, the products are checked for quality, temperature and weight and then stored. They can be immediately loaded from there. By managing everything ourselves, we can control the entire process, which keeps the lines until delivery as short as possible.
TRANSPORT
We have our own transport fleet for the Benelux. Our current fleet, which we always keep in tip-top condition, is used to deliver to our customers for fresh and frozen stock at the same time. The use of partition walls and double cooling compartments means that we can transport cooled and frozen products alike in the same vehicle. All of our vehicles are linked to our tracking and tracing system, so that we always have an overview of our transport. Beyond our regular delivery region within the Benelux, we use regular, reliable external hauliers.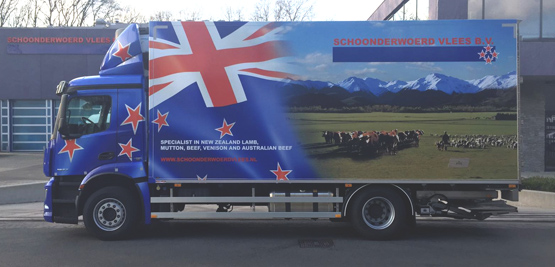 STORAGE
By investing in a completely new location, we meet the latest regulations on importing and exporting fresh and frozen meat. The entire process, from input control to storage and delivery, is registered in an embedded automatic system. All storage and production areas meet all food safety requirements.
When investing in our new location, we opted for special production areas that meet food safety requirements, stainless steel doors and collision protection. We also invested in modern cleaning machines and automation. This ensures that we work in accordance with the new guidelines and that we are ready for the future.
All storage, production and shipping areas are air-conditioned. All temperatures are continuously monitored and directly connected to an alarm system under 24/7 surveillance.