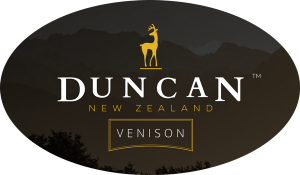 100% MADE OF NEW ZEALAND VENISON – PASTURE RAISED GRASS FED
Duncan is a fresh ingredient to inspire the imagination. Perfect for new creations, new takes on classics and enticing flavours. A new performance edge for your menu, pasture raised and grass fed in New Zealand. This is a fine-tasting farmed venison, raised naturally, with fresh and delicate flavour notes, backed by our promise of unmatched quality and consistency.
PASTURE RAISED freshness FROM NEW ZEALAND
Our venison is pasture raised in the open spaces and rolling green hills of New Zealand.
Deer farming requires a free thinking approach – a light touch and intuitive respect between farmer and animal. This is the origin of the distinctive quality, consistency and healthiness of our venison.
A natural VITALITY
Deer are strikingly elegant animals; free spirited and agile with an individual streak. Our products are as natural as their source, with a distinctive freshness and vitality.
"It's very versatile – you can cook it at all times of the year in all kinds of ways; rich and hearty, or light and summery."
New edge FOR YOUR MENU
Duncan is an elite red meat, consistently delivered. Versatile, premium cuts, produced to exacting specifications as an ingredient for delicious inspiration.
A new taste FOR FRESH POSSIBILITIES
Pasture raised freshness from New Zealand
Raised on wide, open, New Zealand farms for a fresher taste and consistent quality
A natural vitality
Free to roam, naturally creating cuts that are supremely lean – the healthy choice
Fresh and delicate flavour notes
An entirely new, delicate taste in venison, with a clean palate finish
A new edge for your menu
Consistent quality for fresh and enticing cuisines
The finest expression of venison
Duncan pasture raised venison – a bright, fresh and entirely new dining experience
100% Made of New Zealand
With so many ways to enjoy it, Duncan is a lighter red meat option that truly stands out. As an enticing combination of delicate flavours and leanness, it is highly sought after for its potential in fresh and inviting cuisines. A distinctive choice for your menu that's consistently delicious, light and healthy. Our best cuts for your best creations.